Music Scoring
Credit must be given to all the amazing musicians I have worked with over the years who played on these recordings (and others of mine) and perform live with me. They are able to interpret and then translate what I have written magnificently, and their solo's are without measure always intuitive, creative and totally capture the feel and idea's behind the theme of the music composed.
Pulse transit(2017) 
This is another thing altogether… I started to get into electronic music and synthesizers.
A few years back I started going to a different type of dance show/performance…I had previously gone to more traditional musical theatre shows until a friend took me to a show in Melbourne by dance company Chunky Move.
I enjoyed how it didn't seem to be in time… in fact there didn't seem to be any sense of time. they played with time, had there own sense of time… it was random. Some one mentioned to me at another performance of modern dance that if they (the dancers) feel they are getting in time they will get back out of it. The sense of rhythm and movement of the pieces affected me. I did not know enough about modern dance to understand the rudiments of this type of dance form, but what I did know is that I wanted to take the ideas I was getting from the visuals, movement, timing and performances and put that to music. And the seed that took root in my mind was to write music that had a sense of bending time, slowing down and speeding up etc, even though its foundation was an unmovable pulse…which established a groove for me to work out from and a subconscious beat for the listener".
And that is how Pulse transit came about.
Pulse transit is two parallel trajectories traveling two lines of time… one shifting, the other fixed. The downbeat is set and constant during the course of the piece/work. The speed shifts only thru the feel of the time signatures, 4/4, 7/12, 5/16 to name a few, and the way the instruments are played and where the notes are placed. A lot of thought was given to what instruments and which musicians to use that would best create the feel, mood and tone of each opus a vintage Holden Monaro speeding up the Hume Highway, traveling thru Japan on a VFT… or opening a window to let in the cooling breeze of the Fremantle doctor. https://ashleydavies.bandcamp.com
Note: The live show is currently in pre-production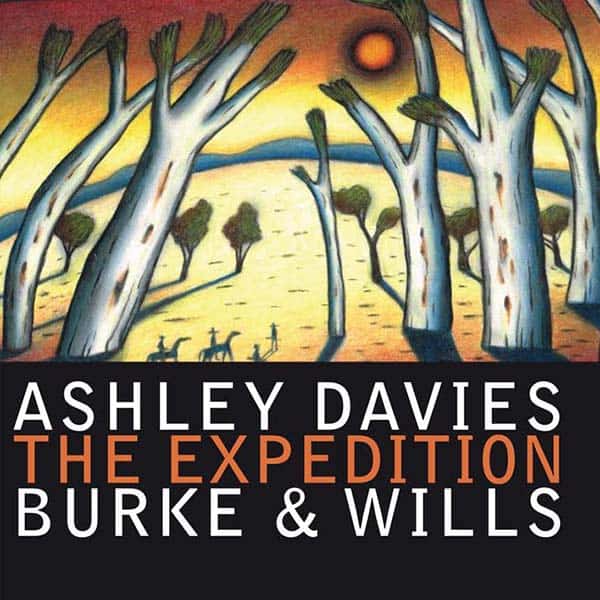 Burke And Wills(2014)
The Burke and Wills theme was from the rhythm… there were no recurring melodies or riffs like in Ned Kelly. I had the rhythms of horses, camels, men walking slow…and fast, and also the sense of movement of the whole expedition as it travelled along. Every track has a different groove to it…as they were passing across the country. I then built out from there on riffs, melodies and the main feel and groove with the other instruments.
"What an epic airing of this brave Australian tragedy! Ash Davies' dynamic instrumentals truly do justice to the peaks and troughs of Burke and Wills' journey."
-Henry Wagons
With Burke and Wills the idea came from an email sent to me asking if I was going to do another album like ned Kelly…amongst other things they went on to say that the story of burke and wills could be worth looking at if I were. I was not planning to do another history/story inspired record but I thought I would read a book that was recommended as my interest was peaked. Again, I thought I knew the story of Burke and Wills..but I didn't, and as I found out, a lot of other people didn't know it either.
Most people I talked to and nearly every interview I did saw the Burke and Wills' expedition as a failure – I don't see it that way. After reading about the expedition I was astonished at what they accomplished and totally inspired by what they did… The ideas came and I started to write a musical journey of the Burke and Wills expedition.
The creative license is with the music only. The narrative is written by Australia's foremost Burke & Wills scholar Dave Phoenix, President of the Burke and Wills Society.
To work on this project I once again gathered together some of Australia's finest musicians to work with including Matt Walker, Reg Mombassa, Shane O'Mara, James Lee, Rick Plant, Craig Pilkington, Anita Quayle, Abbie Cardwell, Howard Cairns, Andrew Ogburn, Eugene Ball, Monique DiMattina, Michelle Lewit and Glenn Romanis. https://ashleydavies.bandcamp.com
Ned Kelly(2003)
The music themes for Ned Kelly were centred around happiness and innocence parts a and b, trouble and death…these repeat during the album and are set up in track one…track two sets up the happiness and innocence theme's.
"The Ned Kelly legend obviously still has resonances for many Australians, but to come across artists who've found such a fresh angle on it, as Ashley Davies and Ian Jones have with this richly drawn project, is especially exciting. Enough to leave Peter Carey gasping". – Clinton Walker; Author Buried Country, Highway To Hell, researcher " A Long Way to the Top"- ABC documentary series on Australian Rock and Roll and television music show Studio 22 presenter.
Early 2000's a friend lent me a book entitled "Our Sunshine" written by Australian author Robert Drewe. It was a magnificent story and more importantly left me wondering about the Kelly myth. At school I was taught Ned Kelly was a murderer and a bank robber. "Our Sunshine" in its own way was giving another view – a view that I had never heard or read about. I became very interested and proceeded to study anything I could find on Kelly. As I got more into it I realised how much there was I did not know or for that matter was not told about in school. Around this time a new book about Ned Kelly hit the bookshops, it was entitled "A Short Life" by Ian Jones. It was brilliant. The definitive book on the Kelly history.
I was inspired by the Kelly story along with Ian Jones's book and started writing music about different events in Ned Kelly's life. I had already composed four instrumental pieces and this is how the idea came about of making a record. Previous recordings artists have made are folk orientated and lyric based. I wanted to do something that presented the life and times of Ned Kelly both emotionally engaging and historically accurate but not like anything that had been done before. To date there had been no soundscape/soundtrack recording made about the Ned Kelly story. This idea links instrumental music and printed narratives for a new representation. The music would create the emotion and the text will spur the unfolding of the stories in the listeners mind.
I had a copy of "A Short Life" on me one day and a friend happened to notice, they remarked that they knew Ian Jones and I immediately asked if they knew him well enough to tell him about my project and to see if he would be interested in talking to me (at this point I was going to write the narratives and I thought Ian would be of great help from a research standpoint). My friend got back to me and said Ian would be happy to meet. I was in some respects in awe of Ian Jones, as a writer and Kelly historian. It was a privilege to talk with him. I went through the project, what it was and what I hoped to achieve and that it was important to me that through this idea people learn the whole story about Ned Kelly. I had not planned it but I asked Ian if he would be interested in writing the narratives. It was a thrill to say the least when he accepted.
Ian and I had meetings and between the two of us selected what we thought were the most influential moments in Ned Kelly's life and these make up the fifteen instrumentals and stories. I had already composed four pieces and set about writing the rest of the music. I wanted to make a record unlike what I had done before. Utilizing sound effects where appropriate, real, and those I created (I went to Stringybark Creek and recorded running through the bush to get the desired effect for when Ned Kelly was chasing Sergeant Kennedy, the drums for the horse riding show that ends Outlaws at Play and as the train in the intro for the Siege of Glenrowan) and musically incorporating classical overtones mixed with my own Rhythm and Blues, Rock and improvised style. I then chose a core line up of musicians that would play on most of the tracks and special guests to perform specific pieces. The record boasts some of Australia's finest musicians. Adam Gare (Uncle Bill, Paul Kelly), Jen Anderson (Weddings, Parties, Anything), Jeff Lang (best blues album 1999 Australian Blues Music Awards, (which I played on), Matt Walker (Matt Walker and Ashley Davies duo "Soul Witness" ARIA award winning album 2000).
I produced the CD and Chris Thompson recorded and engineered at the ABC studios Southbank. https://ashleydavies.bandcamp.com
NOTE: There is a new Ned Kelly live show in production.
I have always enjoyed writing music for stories or visuals. The first composition I did of this nature was a track called ARCHANGEL and features an amazing guitar solo by Matt Walker. It is on the Mighty Servant album but you can hear it here. It is the story of a vision, or myth if you like, appearing in the First World War… it happened near a town called Mons in Belgium where a battle was being fought. The German army was annihilating the British through sheer force and manpower. Complete destruction of the British soldiers seemed inevitable. The course of the battle changed however when a vision appeared between the lines of the two armies. British officers recalled that as they were retreating the German army suddenly stopped shooting and in the eerie silence of a cease-fire stood looking aghast at a troop of angels standing in their way. This track is on the Mighty Servant album https://ashleydavies.bandcamp.com
My first go at soundtrack scores written for short documentary films.